ABOUT THIS GAME
The Frontier edition will be the perfect place where players and developers experience new contents together. Through effective communication with the community, the studio will be able to upgrade and perfect the game in time.We sincerely invite you to join us in the Frontier edition; your feedback will be invaluable for us.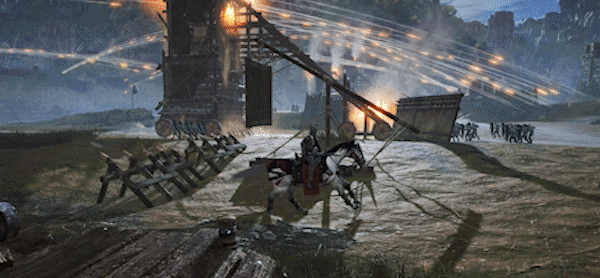 In the medieval siege battles where over 1000 soldiers are slaying each other, you can chop and slice your enemies as a fearsome warlord in the battlefield, while commanding your armies to charge, shoot, defense, or other tactical options—order English longbowmen to unleash piercing arrows upon opponent's troops in the long distance; lead a squad of Polish hussars to charge towards enemies' commander from high ground; devastate fortifications with powerful siege weapons like French culverins and battering rams. In this epic battlefield, two teams of 15 players will be fighting each other until victory is achieved.


In Conqueror's Blade, glorious medieval soldiers like Hungarian cataphract lancers, Swiss Halberdiers, and Gaul Crossbowmen are now all under your command. As a warlord, you can choose from 10 diverse weapons, including Shortsword & Shield striking the balance between offence and defense, Nodachi that slashes through a dozen of enemies with just one sweep, and Dual Blades, the ideal weapon for short range combats. Choose your weapons, amour, and units wisely, and enjoy the unique experience of every battle.
SYSTEM REQUIREMENTS
MINIMUM:
Requires a 64-bit processor and operating system
OS: Windows 7 64 Bit
Processor: Intel i5-4460
Memory: 8 GB RAM
Graphics: GTX 750 2GB / AMD HD 5870 2GB
DirectX: Version 11
Network: Broadband Internet connection
Storage: 30 GB available space
RECOMMENDED:
Requires a 64-bit processor and operating system
OS: Windows 10 64 Bit
Processor: Intel i7-6700 / AMD Ryzen 5 2600
Memory: 16 GB RAM
Graphics: GTX 1060 4GB / AMD R9 380 4GB
DirectX: Version 11
Network: Broadband Internet connection
Storage: 30 GB available space